Electronic Apex Locator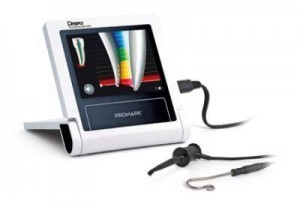 An electronic apex locator is an electronic device used in endodontics determine the position of the apical constriction and thus determine the length of the root canal space. The apex of the root has a specific resistance to electrical current, and this is measured using a pair of electrodes typically hooked into the lip and attached to an endodontic file. The electronic principle is relatively simple and is based on electrical resistance; when a circuit is complete (tissue is contacted by the tip of the file), resistance decreases markedly and current suddenly begins to flow. Various devices signal this event by a beep, a buzz, a flashing light, digital readouts, or a pointer on a dial.
Being able to determine canal length using an apex locator rather than a radiographic image, allows for fewer in-treatment radiographs. Thus endodontists are able to further decrease radiation exposure of the patient.
We hope that our website helps answer your questions. However, please feel free to contact us if something is left unclear  Lutherville-Timonium Office 410-821-5553, Bel Air Office 410-836-7800.